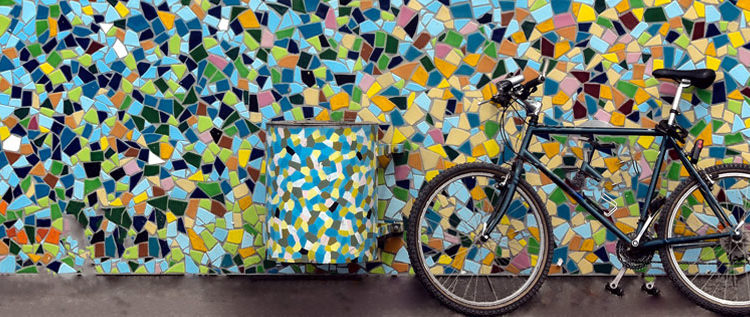 Creating mosaics artwork is a fun activity that can turn broken plates, tiles, and glass into art. As long as you have a creative mind and a bit of time, you are sure to make something beautiful.
Here is a list of 20 DIY Mosaic Projects you can start this weekend:
1) Adorable Ladybug Mosaics
Using cement and pieces of tiles, you can make yourself an adorable ladybug mosaic. Of course, instead of a ladybug, you can create other creatures like frogs or lizards.
2) Repurposed Wheel Flower Pot Mosaic
If you have a spare wheel that's rusting in the garage, you can create a beautiful flower pot using mosaics. This repurposed wheel can be decorated with pieces of mirror, tile, and glass.
3) Sea Glass Mason Jar Luminaries
You can turn your broken mason jar into this sea glass mason jar from seashells and stones. Add in a few transparent glass and tiles pieces to finish the project off in no time.
4) Beautiful Stepping Stones Made Of Mosaics
Simple but elegant stepping stones are a great weekend project that you can make use of for years. Just use concrete to make it into the desired shape and add mosaic tiles to finish it off.
5) Mosaic Sea Glass Tabletop
Your patio or backyard will look perfect with this mosaic sea glass tabletop. Simply use an old table and add sea glass, other glass, stones, or tiles to create your design. Be sure that your table will be able to hold the added weight before you start.
6) Glass Mosaic Vase
You can turn something ordinary like a vase into a beautiful work of art with mosaics. Just take your old faded-out vase and use mosaics to cover its exterior to match your style.
7) Mosaic Eggshell Picture Frame
Use painted eggshells to cover a picture frame, turning it from a boring old thing into an exciting picture frame. Use acrylic paint is recommended for the eggshells.
8) Spiral Mosaic Pebble Path
While this is one of the more complex designs on this list, it will make your garden pop. Be sure to properly plan and map out the path before you get started.
9) Mosaic Coffee Table
Turn your regular coffee table into a beautiful mosaic masterpiece with some tiles and paint. When creating this design, make sure that the final surface is even and smooth. After all, we don't want your coffee mug to spill.
10) Sea Glass Mosaic Serving Tray
When you are serving refreshments to your guests on your Mosaic coffee table, use the sea glass serving tray. Just take a plain white serving tray and add properly shaped sea glass shards.
11) Mosaic Garden Art
Whether you want to create a birdbath or a watering can, mosaics can be a beautiful avenue. Just use your imagination and a little patience to create beautiful mosaic garden art.
12) DIY Tile Backsplash
While using tiles as a backsplash in the kitchen is common, you can also use mosaics to add color. Just use broken plates and glassware to create your pattern for this simple but rewarding project.
13) Pink Mosaic Flamingo
The regular old plastic flamingos look cheap and take away the charm from your front lawn. However, adding pink tiles and tinted glass pieces can turn this into your very own creation.
14) DIY Mosaic Bedside Table
If you want to spruce up your bedside table, using mosaics to decorate is a great idea. This project will not take more than a few hours at most. It can also result in a beautiful addition to your room.
15) Mosaic Board Succulent Planter
If you have a few broken teacups or coffee mugs, you can make yourself a mosaic board succulent planter. Use it to grow plants or herbs right in your kitchen. Just hang it in a place where it can get some sunlight and watch your plants grow.
16) Mosaic Tile Window Box Planter
Turn your ordinary box planter into a work of art by adding your very own mosaic flair to it. Whether you want to use symmetry or not is up to your design choice. I prefer if the tiles are symmetrically applied.
17) Mosaic Mason Jar Craft
Turn a regular jar into a mosaic art project by adding mosaic stones to the surface. Use a quality adhesive and the project should be done in under an hour.
18) PVC Pipe Flower Pot Holder
If you have a few pieces of PVC pipe lying around, use tiles to create a beautiful Flower Pot Holder. You can create beautiful designs using this idea.
 19) CD Mosaic Birdbath
Reuse relics like CDs into a nice birdbath but breaking them and reattaching them into a birdbath shape. You can use a shallow bowl or plate as the base.
20) Custom Mosaic Address Marker
Rather than having a simple but boring address marker, create your own with pieces of tile and wood. Plan your pieces so that the address is readable and you should be good.