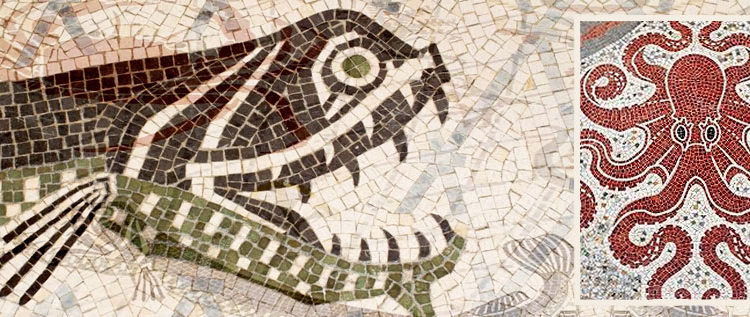 The Oceanographic Museum Of Monaco (Musée Océanographique de Monaco) is a must-visit location for tourists of all ages. So, whether you are in Monaco by yourself or with your family, visiting the museum and aquarium will be educational.
The museum has several attractions which include exhibitions, aquariums, games, and a terrace restaurant. In addition to these commonly known attractions, the mosaics used in the flooring are also worth a look. These mosaics in The Oceanographic Museum Of Monaco depict sea creatures and sea life. In the foyer, you can see a large mosaic of a ship surrounded by a ring of sea animals.
What's Special About The Oceanographic Museum Of Monaco?
The unique selling point of The Oceanographic Museum Of Monaco is that it's a mixture of Art and Science. It contains over 6,000 specimens of Natural History, including fossils and bones of ancient sea creatures. They also have live interactive animations that can help kids and adults learn about Sharks, Sea Turtles, Jellyfish, and more.
While the inside of the cliff-faced building is interesting enough, the outside architecture is also as detailed and noteworthy. There are several stone carvings on the stone exterior of The Oceanographic Museum Of Monaco.
There is also a 'Turtle Bubble' on the terrace. This artificially created ecosystem is in a temperature/humidity-controlled dome built for three turtles who call it their home.
So, whether you love artwork, architecture, or marine life, The Oceanographic Museum Of Monaco has something for you.
What Do Tourists Think Of The Mosaics In The Oceanographic Museum Of Monaco?
Most people know of the exhibitions and sea life they are going to see at The Oceanographic Museum Of Monaco. However, they are often surprised by the mosaics that cover the floors. These mosaics are works of art that took months to create and people seem to enjoy them.
A French tourist said that this was a 'not to be missed' location for your travels around Monte Carlo. He especially liked the mosaic floors of sea life as well as the multiple levels of aquariums. The terrace café and the fantastic views of the city of Monaco were also mentioned in his TripAdvisor review. He also took a few photos of the mosaics that are published on his blog.
In addition to this testimonial, there are 5,225 other reviews on TripAdvisor with an average rating of 4.5 stars. The website also claims this to be one of the top 10 things to do in Monte Carlo.
Ticket Prices And Contact Details:
You can either purchase your tickets online or at the entrance of The Oceanographic Museum Of Monaco. However, if you want to avoid long queues, its advisable to book your tickets online before visiting.
The operating times are also between 10am and 5pm daily and is located at Avenue Saint Martin, Monte-Carlo 98000 Monaco.
There is also a gift shop and restaurant on the terrace. You can also eat at one of the 153 restaurants withing half a kilometer of The Oceanographic Museum Of Monaco. And other than the museum, there are 41 other attractions in the area for your exploration, including 5-star casinos.
The ticket prices (last updated Jan 2021):
Adult (18 years and above): 16 €
Student (valid ID card): 10 €
Children (between 4 to 17 years): 10 €
Children (under 4 years): Free
Disabled person (valid ID card): 7 €
Mosaics In The Oceanographic Museum Of Monaco